While cliche, the New Year's detox concept seems like a good one to me. After a season of presumably naughty eating, our systems could use some "clean" food. The celeb definition of clean eating is a tad more extreme than I'm thinking here. Personally, depriving myself just makes me grouchy and perhaps more inclined to dive into a bowl of ice cream. My perspective is a little more middle-of-the-road: weeding out processed snacks, adding an extra dose of veggies and easing up on the butter. Here are two light and tasty meals easily accomplished on a weeknight.
Parsnip, Leek and Potato Soup with (optional) Gruyere "Toasts"
I deviated so significantly from the recipe, originally from Real Simple, that I'll just give you the version I made.
2 Tbsp olive oil
1 tsp chicken base (if you don't have it, just leave it out)
2 leeks, thoroughly cleaned and sliced into half moons
4 medium parsnips, peeled and cut into 1/4-inch pieces
1 lb Yukon gold potatoes, peeled and cut into 1/2-inch pieces
5ish cups low-sodium vegetable or chicken stock
Kosher salt and black pepper
Chopped fresh flat-leaf parsley, for garnish
Heat the oil in a large pot over medium heat. Add the leeks, parsnips, chicken base, ¾ teaspoon salt, and ¼ teaspoon pepper. Cook, stirring occasionally, until the vegetables begin to soften, 6 to 8 minutes. Add the potatoes and broth and bring to a boil. Reduce heat and simmer until the potatoes are tender, 12 to 15 minutes. Partially puree the mixture (so to thicken the soup but still leave some good chunks for texture), either by using an immersion blender directly in the pot and giving it a few turns, or transferring half the mixture to a blender and then adding it back to the pot. Stir in chopped parsley, and serve.
You see that "toasts" is in quotes because, well, I grabbed the closest item resembling toast in my pantry: a whole wheat English Muffin. These make this meal feel more substantial and perhaps elevate it from Sunday lunch to dinner time fare. I toasted the English Muffin halves, spread them with a bit of butter (shhhh), topped them with grated Gruyere, and toasted them again until the cheese was bubbly and just browned.
The next dish is seriously fantastic. On my own accord, I would never think, "hmm, I think I'll top my salmon with a hazelnut puree tonight." It's those more unique flavor combinations I stumble upon that keep cooking fresh, fun and delicious. This is a Weber recipe, so you know it involved grilling - on a cedar plank this time, which was marvelous. No worries if grilling is not your thing though. An alternative would just be to put the brown sugar covered salmon under the broiler (on a foil lined pan...miserable mess otherwise) for about 10 minutes. The sauce is super easy and involves no cooking - just buzzing some ingredients together in a food processor/mini chop while the fish is cooking. It is a totally yummy embellishment to the delicately sweet fish.
Cedar-Planked Salmon with Tarator Sauce
3 Tbsp plain bread crumbs
2 garlic cloves
1/2 cup toasted hazelnuts
3 Tbsp fresh lemon juice
1/2 cup extra-virgin olive oil
1/4 cup flat-leaf parsley
Kosher salt and freshly ground black pepper
Salmon fillets (6 oz/person)
1/2 cup brown sugar
In the bowl of a food processor, zap the garlic and hazelnuts until finely ground. Add the lemon juice, and then, with the motor running, slowly stream in the olive oil. Add the parsley, 1/2 tsp salt and 1/4 tsp pepper, and pulse quickly. Season to taste with additional salt, pepper and lemon juice if desired.
Prepare the grill for direct cooking over medium heat. Generously season the fish with salt and pepper. Place a cedar plank (that has been soaked in water for at least an hour) over direct medium heat and close the lid. After 5-10 minutes, when the plank begins to smoke and char, turn the plank over and then lay the fillet on the plank. Carefully sprinkle the brown sugar over the fish. Close the lid and let the salmon cook until lightly browned on the surface. Cooking times will vary based on thickness, but it will take roughly 15-20 min for medium rare. Serve with the sauce.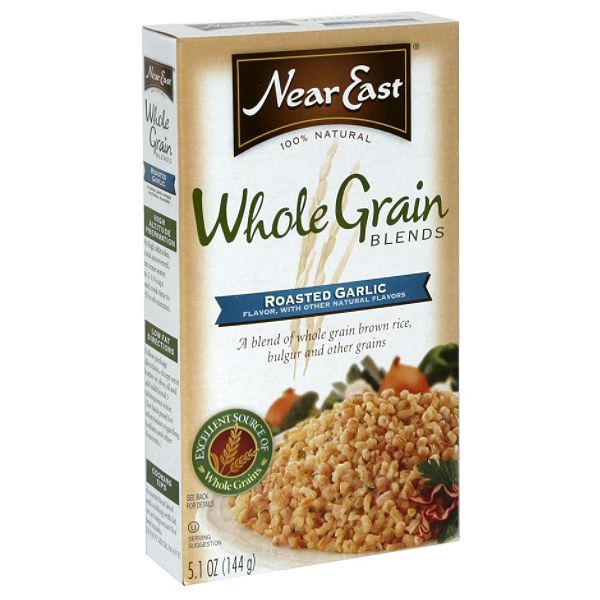 If you're wondering, the beige pile on the plate next to the salmon came from a box...this box actually. I usually keep a few of these kinds of things around for quick side dishes. Some brands, like this one, offer easy fixes that aren't too preservative-filled. 
Happy New Year, and thanks for reading!